About
My family emigrated from Kiev, Ukraine (back then it was the Union of Soviet Socialist Republics) to the United States when I was 10 years old. We ended up in Brooklyn, New York and I grew up surrounded by the adventures of city life. At the ripe old age of 27, having suffered enough excitement, I moved my family to a quaint suburb with a perfect little main street, houses that look like fairy dwellings with twinkling lights in the night, and gardens inhabited by cute critters.
Now for the professional pedigree. I completed a Bachelor of Science in Mathematics at Brooklyn College and a Doctorate of Philosophy in Mathematics at the CUNY Graduate Center under the guidance of Joel David Hamkins. I adjuncted at Brooklyn College during grad school years and got hired at the New York City College of Technology right after graduation, where I worked until Fall 2013. At present, I am a visiting scholar at the CUNY Graduate Center.
I am married to the greatest guy in the world, Amrut. Amrut grew up half a world away in Nagpur, India. He came to United States to complete a Master's degree in Applied Mathematics at New York University and I persuaded him to stay. We have a daughter Maya.
Here is my all-time favorite quote:
Men fear thought more than they fear anything else on earth - more than ruin, more even than death. Thought is subversive and revolutionary, destructive and terrible; thought is merciless to privilege, established institutions, and comfortable habits; thought is anarchic and lawless, indifferent to authority, careless of the will - tried wisdom of the ages. Thought looks into the pit of hell and is not afraid. It sees man, a feeble speck, surrounded by unfathomable depths of silence, yet bears itself proudly, as unmoved as if it were lord of the universe. Thought is great and swift and free, the light of the world and the chief glory of man. --- Bertrand Russell
Here is one more:
Your time is limited, so don't waste it living someone else's life. Don't be trapped by dogma – which is living with the results of other people's thinking. Don't let the noise of others' opinions drown out your own inner voice. And, most important, have the courage to follow your heart and intuition. They somehow already know what you truly want to become. Everything else is secondary. --- Steve Jobs
Here is a favorite photo.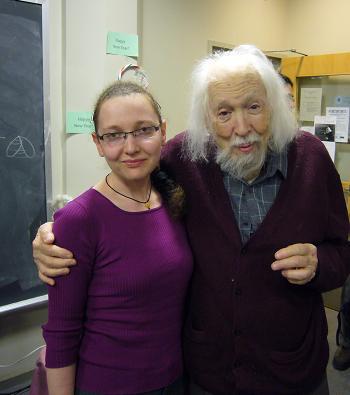 "Raymond Smullyan can prove that either you do not exist or he does not exist, but you cannot know which one."
--- Melvin Fitting